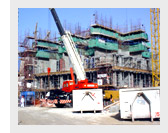 Established in 1982,
Pamposh Group has carved a niche for itself in the construction business by successfully executing the Civil Construction works on Manpower Deployment Basis and Unit Rate Basis. We Multinational Construction Company, has been associated with construction of Federal Projects, Traditional Structures, Institutional Buildings, Commercial Centres, VRD/ External Development and many more.
Supported by extensive knowledge and vast experience of founder members, our skilled workforce is committed to timely completion of every project undertaken without compromising on the issues related to quality, safety and environment. Pamposh is one of the construction company from India, to have gained expertise in managing the execution of large-scale construction projects overseas in association with multinational firms, right form mobilization stage to execution within specified time frame.
We have been a part of the Global Construction Scenario right from the inception of pamposh. Within the first decade of our foray, company achieved a remarkable growth focusing mainly on the Middle Eastern region viz, Iraq & Kuwait.