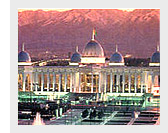 An International Conference center and an opera for important cultural events "The Art and Congress Center" has some unique architectural features. A central dome with five minor domes giving an impressive elevated view to the whole building. Designed for the elite international conferences its conference centers can accommodate 5000 delegates at a time. It also has cafeterias to serve the delegates.
To accomplish the civil structural and finishing jobs, Pamposh has employed workforce of 355 men comprising of Engineers, Foremen, Masons, Tilers, marble fixers, electricians, tower crane operators, batching plant operators and maintenance mechanics etc under the supervision of our principle contractors, Bouygues Batiment International France.
Pamposh has worked on this project as Manpower Deployment & Management Basis.