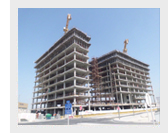 The New Headquarter building for Al-Baraka Banking group, strategically located in Bahrain Bay, comprises of Two Office Towers, nine Levels above ground plus Mezzanine with approximate gross floor area of 22,221 sqm. in addition to four Basement levels of approximate gross floor area of 16,318 sqm. for Car Park, retail and other facilities. The Towers are joined by common Podium and Ground Plaza at ground level while the upper floors are linked by a bridge way.
M/s Arabtec, the main contractor of the project, engaged Pamposh for execution of structural concrete works of the building elements viz. Basements, Ground Floor and 1 No. Tower, totaling 14 levels, on fixed labour cost basis wherein all the logistics and the materials were provided by the main contractor.
Retaining walls upto 5 levels, Core Walls and temporary casting of Waler Beams at two levels to resist the earth pressure and the planned dismantling of Waler Beams during the progress of work besides construction of Strong Rooms where important aspects / features requiring specials attention / expertise in execution.
Total 14,000 cum. of concrete was poured involving 2,500 Ton of steel and 63,000 sqm. of Form Work in a period of nine months to complete Pamposh's scope of work.