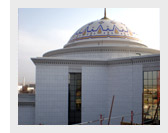 The Structural Concrete works of Magtumgully University located on the intersection of Turkmenbashi and Atabaeva Streets at Ashgabat, Turkmenistan was awarded by Bouygues Batiment International France to Pamposh on Manpopwer deployment & management basis.
The project was executed in two phases. Phase I of the project is meant for regular courses and Phase II has been specially built for Faculties of Mathematics and Physics. Features like the Central Dome and Serpentine Staircases give a unique architectural feel to the whole complex. The Auditorium with a clear height of 9.5 mtrs has state-of-the-art facilities for conducting seminars and presentations etc.
The building also houses a well equipped Kitchen approximately 1000m
2
area, Gymnasium and two Amphitheaters to cater to students needs. Façade is clad with Marble & Granite. Entrance of the building is adorned with Arches built over a base of 70m
2
, Height 26m
2
and 2 columns each of size 3 meter square. The building is complete with 4 small fountains and a cascade at the back.
Pamposh has worked on this project as a Labour Contractor on Fixed Item Rate Basis.
Built over the area of 27500m
2
, the work executed and raw material used for completion of project are as follows:
Steel :
4235 MT
Formwork :
125000m
2
Concrete :
32400 Cum