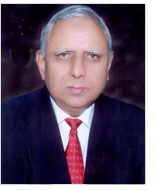 It gives me great pleasure to represent "Pamposh Group of Companies" founded in the year 1982 with an aim to provide Labour Expertise to Multinational Corporate Construction Houses for execution of all types of Construction Works.
Pamposh is the BPO (Business Process Outsource) of International Construction Industry.
Led by our flagship company "Pamposh Constructions India Pvt. Ltd." Pamposh has grown from its humble beginnings in the year 1982 with a mission to provide Trained and Dedicated workforce to the International Construction Industry.
The successful execution of overseas projects has enabled us to create a reservoir of specialized workforce, proficient in execution of their respective job(s) with perfection.
We function as a Subcontractor to Multinational Construction Companies with the underlying philosophy to bring about meaningful difference in the lives of otherwise unorganized Indian Construction Workers.
Our nationwide Manpower Selection Network, State of the Art training facility, strong Financial foundation and determination teamed with high degree of Professional Integrity has enabled us to exceed our clients expectations with regard to Budget, Delivery Schedule and Quality of workmanship. Since each project of our client is challenging and we take pride in meeting the challenges successfully.
We believe in building collaborative relationships with our clients. Repeat business and referrals from our esteemed clients is a testimony to the effect. Our Transparent Working System has earned us the trust of various Government Agencies in India, Ministry of External Affairs, who have without exception, till date granted Pamposh required permissions etc.
My vision is to formalize Strategic Alliances with reputed International Developers including Western Federal Agencies etc. operating in the Middle East and Caribbean to the tune of US Dollars 500 million approximately, for next five year.
The above projects shall include construction of Commercial, Residential, Infrastructure, Tourism and corresponding facilities.
P.N Sadhu